20 of the Best Lyrics from 21 Savage's 'Issa Album'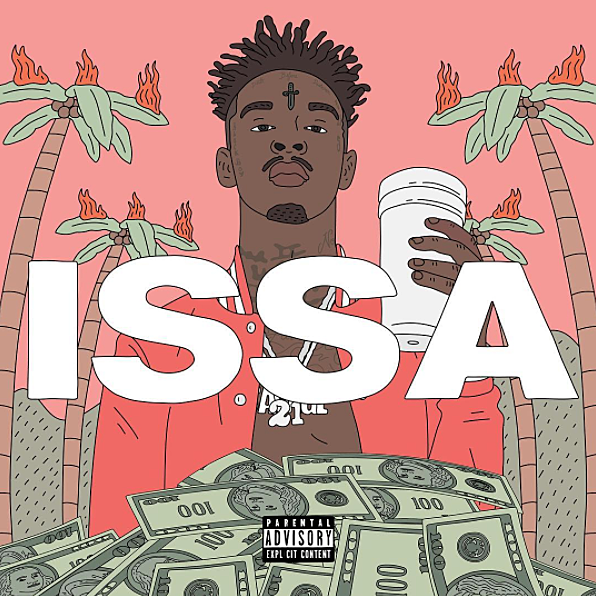 The past few years have seen a subtle change of the guard in rap, with a new class of upstarts beginning to make waves and supplant the leaders of the new school-turned-vets that once held that same distinction. Among this crop of rising stars is 21 Savage, a leading voice out of the Atlanta rap scene and one of the hottest rappers in the game at the moment. He's established himself as a force to be reckoned with prior to the release of a proper debut, powering his own rise to power independently.
Solidifying his buzz in 2015, with a string of mixtapes, including The Slaughter Tape, Free Guwop and Slaughter King, 21 Savage enjoyed a breakout year in 2016, earning a slot on XXL's annual Freshman cover, releasing his collaborative album, Savage Mode, with Metro Boomin; as well as scoring a platinum plaque for the Future-assisted "X." High-profile guest appearances alongside the likes of Drake, Travi$ Scott and Meek Mill would also bring his buzz to a crescendo, resulting in the rookie free agent inking a deal with Epic Records in early 2017. This set the stage for his highly-anticipated major label debut.
His first LP under Epic is the appropriately titled Issa Album, a play on an famous soundbite of his that went viral last year. 21 Savage's debut strays from the feature-heavy formula employed by many new jacks, with the grisly trapper opting to do all of the heavy lifting throughout the album's 14 selections. The project is completely devoid of any costars besides the producers.
Boasting a tracklist that includes production from boardsmen like Metro Boomin, Cubeatz, DJ Mustard Jake One, Pi'erre Bourne, Southside and Zaytoven, Issa Album is a boisterous long player that pairs 21 Savage's sinister musings with equally ghastly soundbeds, making for a brooding collection of songs.
After giving Issa Album a spin, we picked 20 of the best lyrics from 21 Savage's debut that stand a cut above the rest.
"Spray your block down, we not really with that ru-rah shit/Glock cocked now, I don't really give no fuck 'bout who I hit/Yeah, your bitch, she get jiggy with me/Keep that Siggy with me/Bitch, I'm Mad Max, you know I got Ziggy with me/Keep a mad mag in case they wanna get busy with me/'Rari matte black and I got a Bentley with me"
"Too solid, pussy niggas can't disclose us/Went and seen Eliante, and he froze us/I'm too street to walk around with my nose up/Especially to the niggas knew me 'fore I blowed up/Savage Mode drop, now my price, it go up/Streets cold, nigga, they ain't showin' no love/Niggas get in front of judge and they fold up/Face shot, hit that boy with the whole dub"
"I buy a new car for the bitch/I tear down the mall with the bitch/You can't even talk to the bitch/She fucking with bosses and shit/I pull up in 'Rari's and shit, with choppers and Harley's and shit/I be Gucci'd down, you wearing Lacoste and shit"
"Have you ever did a real homicide, nigga?/Have you ever made a nigga mama cry, nigga?/Do or die nigga gotta do or die, nigga/If you ain't the one doing it, you gon' die, nigga/Sometimes I look at God and I wonder why, nigga/Why my niggas had to be the ones that had to die, nigga/They killed one, we gon' kill 5, nigga/Winter time, we gon' set your block on fire, nigga"
"Niggas talk, hoes talk/Thirty on the Glock, let the poles talk/Party on the yacht, brought the hoes out/All my niggas on to y'all, so now/I'm in the Hellcat doin' donuts/Your baby mama sleepin' on a blow-up/Mad Max, nigga what the bloodclaat/Four-five leave you with a blood clot"
"Goyard bag, I'm on some other shit, bitch boy/Fire at us and get your pussy ass hit, boy/You dropped outta school to jump out with that stick, boy/All you niggas get capped, I'm the real McCoy/Yeah, smoking cookie, nigga, Chips Ahoy/Yeah, had to block her number 'cause the bitch annoying"
"Hoe, I'm really rich, don't know what a bitch thought/VVS bitch, they doin' the crip walk/Niggas act like Jay, you might as well hit chalk/My GD partners throwin' up the pitchfork/Put it in a bowl and whip it 'til it get hard/I don't smoke weed 'cause it make me shh-noid/I pull up with the stick and let this bitch spark/Swear I would've shot that cracker if I was Rosa Parks"
"Scrape the corner, buy a Rover/Crack inside my grandmas sofa/Sunday, family coming over/Move the crack behind the toaster/Carry pistols with no holsters/Trying not to be a poster/You was listening to your coaches/I was listening to the vultures"
"Hoe stab a nigga in the back like the streets do/Can't believe that you betrayed me, I used to sleep with you/Niggas quick to say they loyal to you, they be see-through/Gang, gang, screaming, 'Fuck you, they want to eat you'/My son got asthma, grandma having spasms/Fuck the chatter, he gon' tattle, put 'em on the platter/Snakes plotting on my downfall like I'm hearing rattle"
"I take her shoppin', that's easy/Fuck the summer, girl I ball all season/She don't want me to think that she easy/But she ain't tryna make it seem like she teasin'/We just chillin' at the bar and she cheesin'/Buy a hundred shots for no reason/Man, I'm tryna take you home this evening/Brown liquor got her panties leakin'"
"Ayy, fuck that other side, we gon' shoot up your Sprinter/I used to sell that crack and spray that MAC out that rental/Niggas run and hide when we roll down the window/Got a extendo and a hoodie, he can't wait 'til December/Got a extendo and a hoodie, he gon' shoot you on camera/Lost his faith in Jesus Christ, he prayin' to a bandana/Police gunned his brother down, this shit too hard to handle/Loading up his chopper, he gon' show 'em Black lives matter"
"Shit gettin' outrageous/Treat us like slaves then they lock us up in cages/Young, Black, poor, ain't had a father since a baby/Why you think we skip school and hang out on the pavement?/Why you think we ridin' 'round with choppers off safety?/Streets cutthroat, nigga, so I'm cutthroat/I used to sell dope, nigga, now I can't vote/Poppin' Percocets to kill the pain, I can't cope"
"I was on the corner with the robbers and the d-boys/Now I'm on the charts, man, this shit is unbelievable/Mama, it's a lot of secrets that I had to keep from you/Got in so much trouble, thought the teachers had beef with you/And it paid off 'cause we livin' like the Greeks and Jews/Used to leave your stove runnin', stove runnin'/Now it's Louis rags when my nose runnin'"
"You lil' niggas so bummy/Make a diss song, they gon' wrap you like a mummy/My young niggas geekin' on boo zombies/They hungry, up it on you then they tell you, 'Run it'/I stole cars, drove them like go-karts/Niggas actin' like bitches, they got both parts/And I came from the gutter, I don't got no heart/And I'm straight up out the gutter, I don't got no heart"
"My jewelry twinkle twinkle/Doin' donuts in the foreign while it sprinkles/You keep callin', I'm ignoring, bitch I'm single/You keep callin', bitch I'm single like a Pringle/You know I'm fly like G4/Bitch you riding in a Pinto/Bitch you know your nigga lame like the Winslows/I'm 21 but you know PDE my kin folk"
"You a fake gangsta, you ain't ever shot nobody/I don't wanna hear them stories 'bout them fake bodies/Young Savage send a hit like John Gotti/Nigga get whacked, thinkin' they hard 'cause they on molly/I'm the Saint Laurent Don, love to cash out/You a dick jumpin' faggot, you a mascot/You beat your bitch 'cause she walk 'round with her ass out/They wanna rob me 'cause I walk 'round with that bag out"
"Put you in that coupe/Put you in Jimmy Choo/Burken bag, 25,000 on the tag/Put you on a private jet/We ain't never riding first class/And we having sex in the air, man, I hope the pilot don't crash/Hard to find a bad bitch to stay true to me/Who gon' spend them late nights in the booth with me"
"TEC on me with the coolie on it, I'ma fuck around and squeeze/Pain runnin' through my veins, I don't want the fame, I just wanna eat/Rap niggas callin' my phone, fuck these niggas, these niggas ain't G's/Spend on a lot of niggas, I ain't spend no more, fuck around and get robbed 'round me"
"Y'all niggas pussy like kittens/VVS's on, I need mittens/Nigga, we ain't leavin' no witness/Stomp a nigga 'til he need stitches/I ain't never played no victim/Every nigga played, I killed him/Put a nigga in a blender, nigga, then we chop it up/Put it in the Pyrex, nigga, then we lock it up/Put that bitch inside a Benz, she was in a Acura"
"Got the rap game on lock fast, 21/Got the block game on lock fast, 21/I got that Glock aim on lock fast, 21/I drop, cock and send shots fast, 21/You only gangster when the gangsters gone, 21/You just a pussy with a camera phone, 21/You just a bitch with an Instagram, 21/No trigger finger, I got a trigger hand"
Source:
20 of the Best Lyrics from 21 Savage's 'Issa Album'